Discover Palermo while traveling with your family
When traveling with children a few basic aspects to be able to enjoy a great vacation with no stress are key - the ability to walk everywhere; having access to open spaces where kids can play; a comfortable and clean space where to sleep. Reserving a room at Suite Quaroni in Palermo is an easy choice for anyone traveling with children while not wanting to give up exploring Palermo in all its beauty.
From Suite Quaroni you can easily walk to the historical markets of Il Capo and Ballarò, and your children will enjoy the beauty and authenticity of a market that keeps traditional elements alive still today- the abbanniata, typical hollering of local vendors at the market as a primary mean to promote the quality of their products; the ability to sample local products to test their quality; the true art of bargaining for the best price. These are some of the things that you can experience while spending your morning at a market in Palermo.
One additional component of Sicilian traditions is the Opera dei Pupi Siciliani, a theatrical representation that attracts many fans from all over the world. Many theatres are designed specifically for this kind of entertainment and are scattered all over the city center to offer a show on the stories of Charlemagne and his chivalry knights recounted by some of the oldest family of Pupari Siciliani (Sicilian Puppets). In November, however, the Morgana Festival keeps all families and theaters busy during a full week dedicated exclusively to the Opera dei Pupi.
Traditions and folklore, ongoing all year long, represent an ensemble of some of the most fascinating colors and sounds for both children and grown-ups. Suite Quaroni is designed to provide a comfortable place with good service to every family traveling to Palermo whose aim is to have a relaxing vacation. All rooms are also furnished with memory foam mattress beds, hypoallergic pillows and are sound-proof to make every night a quality night of sleep for children and grown-ups.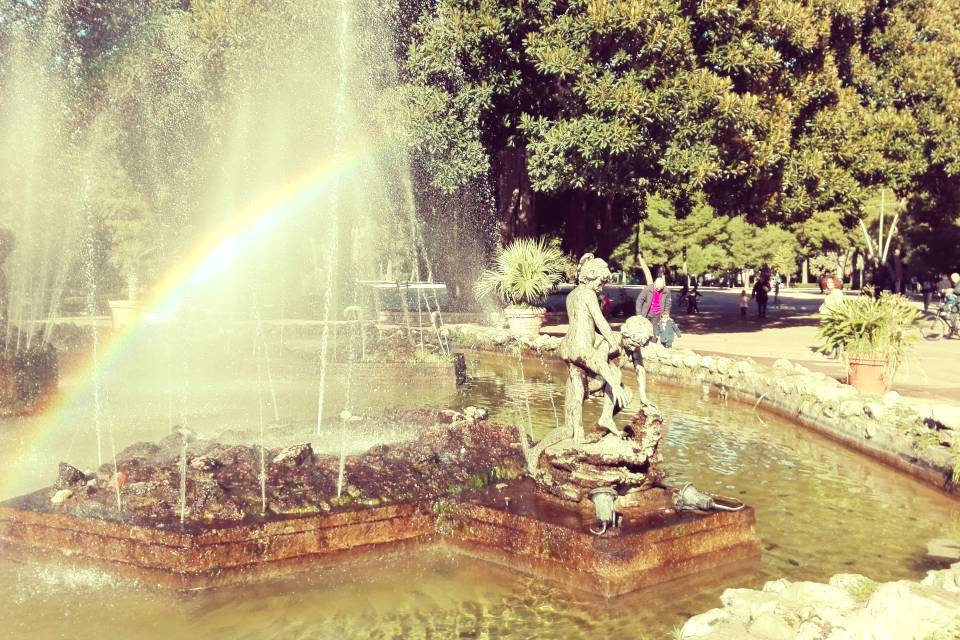 By visiting the city center it's easy to relax in one of the gardens, another landmark among the many elements of architectural beauty of the city. You can even use your visit to enjoy in pure tranquility some delicious take-out from a bar, rotisserie or bakery. Il Giardino Inglese (the English garden), designed by Basile, a renowned Sicilian architect, is an astounding garden and a perfect place for a break or where children can run and play freely among the many plant species from all over the world.

At the historical center, just between Porta Nuova and la Cattedrale (the cathedral) is Villa Bonanno, a small and exquisite garden behind the magnificent Palazzo dei Normanni. One more garden that deserves a visit is Giardino Garibaldi at Piazza Marina, with its secular and exotic plants, particularly the ficus with a trunk of over 20 meters of diameter and branches that can reach up to 50 meters of length, have been some of the plant species that have lasted the longest in all Italy.

At a short distance from Giardino Garibaldi, the Orto Botanico (the botanical garden), which together with Villa Giulia, adjacent to it, create magnificent green patch in the midst of the city, right across from the water. The Orto Botanico hosts over 12, 000 species, both native and exotic, and it is a place of great interest for children who want to see carnivorous plants, soap plant, cotton plants, and the marvelous water-plant exhibited in the Acquarium.