Suite Quaroni B&B in
the historical city center
of Palermo
A vacation encapsulates different aspects of life: new encounters, states of mind, impressions, views, strolls. These are all elements that shape a vacation and make it an unforgettable event.

When you are vacationing somewhere, you want to explore and savor the place of your choice in an authentic and unique way. You want to find new emotions and ideas in a way that leave a permanent mark in your heart.
A significant part of this journey is given by the city, which will serve as your temporary home while being away from home. With that in mind, Palermo and Quaroni Suite are the perfect combo, able to gift you with a comfortable stay in your quest of discovering the city of Palermo.
Palermo is a city that needs to be explored step by step – a city where every street, side street and alley can offer an unforgettable memory. It's also a city that can be savored during the day and at night, offering at any moment an array of great foods that range from street food, to traditional cuisine, as well as gourmet dishes and traditional products such as sweet and savory baked delicacies and pastries that are stuffed with delicious cream made with ricotta cheese.
Couples will enjoy strolling through the city of Palermo and be mesmerized by its art and culture, while adjusting to a slow pace that allows one to enjoy life more fully and take in all the beauty that surrounds them. Even small groups of friends and families will find that Palermo is the kind of city that can offer the type of vacation perfect for their rhythms, allowing to unveil a new and unexpected face of Palermo every day.
The starting point of your vacation will be Quaroni Suite, an elegant and welcoming B&B in Palermo located inside the walls of the renovated Palazzo Quaroni. It will offer you every kind of comfort and amenity that you are looking for when on vacation.
All rooms
, double and triple rooms, are dedicated to a landmark of the city of Palermo. They are designed to be a perfect temporary home base, offering a clean, comfortable and well-lit space.
Every detail, from your quality of stay to your individual needs, has been taken into account, making Quaroni Suite a place that stands out with comfortable beds and sound-proofed rooms giving you an opportunity to enjoy Palermo rested and care-free.
Quaroni Suite is the perfect solution for anyone who wishes to stay at a B&B in the historic city center of Palermo and be able to walk everywhere, leaving their car in private parking spaces designated to our guests.
The B&B that allows to live the city of Palermo in total comfort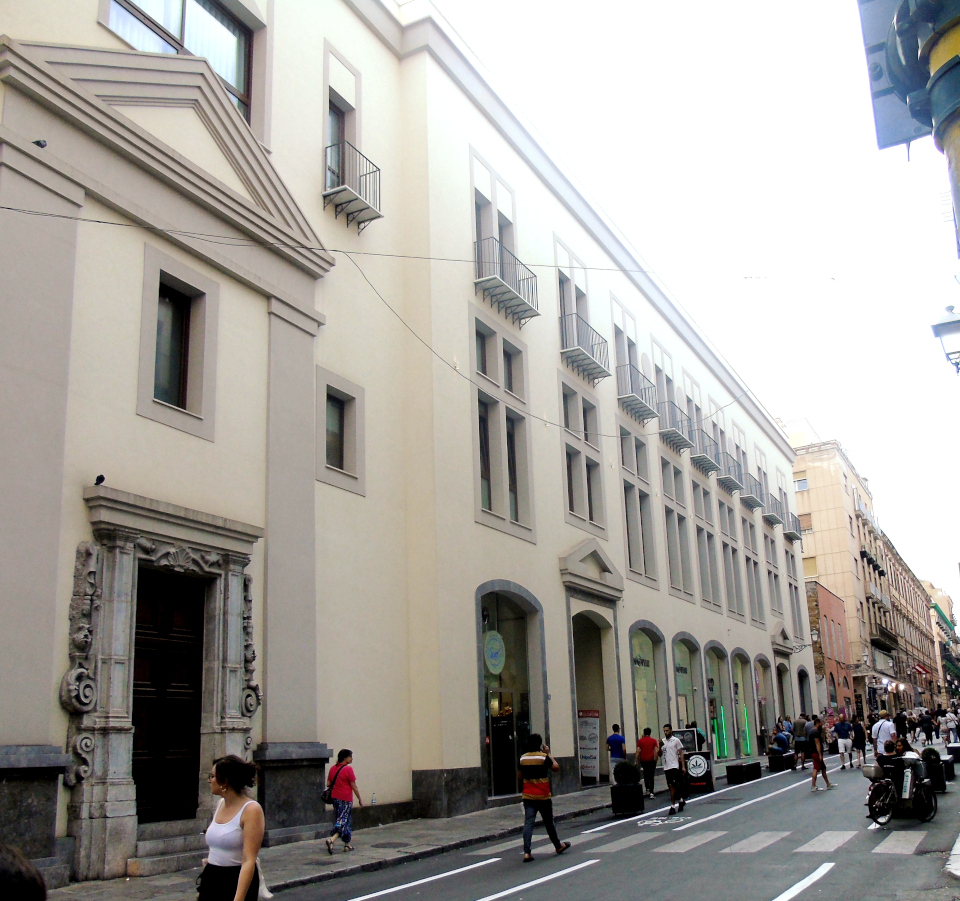 Palazzo Quaroni
is an elegant building, recently renovated , which rises in the central avenue of Palermo's Via Maqueda, an area that has served in the past as oratory for the Jerusalemites and a local renowned movie theatre - cinema Basile. The building is named after its designer, the architect Ludovico Quaroni.
The land on which the Palazzo was built belongs to the Catholic Church (the Curia) and it has significant historical value to the city. Lodged in between Via Maqueda, la discesa dei Giovenchi and la discesa delle Capre, once upon a time this neighborhood hosted la chiesa di Santa Croce (Church of the Holy Cross), l'oratorio dei Gerosolimitani (the Oratory of the Hospitallers) and years later the movie theater - cinema Basile. This area is also particularly influenced by the passage of life-time since; in addition to the chiesa di Santa Croce and the cemetery, what was once known as the 'vecchio macello", or slaughterhouse, was also located in its proximity.
During World War II the bombings destroyed the entire area and it remained untouched until the 80's, when it was finally decided to be dealt with . It was Ludovico Quaroni, a renowned Italian architect, who designed the project for today's Palazzo Quaroni, whose project was finally completed during the second decade of the 2000s after a long bureaucratic hold. The project managed to include "l'antico fregio", an old frieze, as well as the original front door of the old structure, both of which were savvily incorporated in the final project.