Palazzo Quaroni – an elegant building in Palermo's city center
When you are traveling to another city far away from home, you are always looking for a place to stay that may share something in common with home in some way – a sense of familiarity, a welcoming feeling, and a place easy to reach – while simultaneously looking for something different – a place where to feel pampered, welcomed with a smile and discretion, or a place where you can feel free to choose how to spend your free time with no stress.
One of the best ways to visit a city, especially Palermo, is by being able to walk everywhere, giving you the freedom to discover new places in all their authenticity, and getting to know every sound and aromas that make each area original and unique. One of the main strengths of
Quaroni Suites
is its central location right on Via Maqueda, in the historical area of Palermo, inside the walls of
Palazzo Quaroni
, a recently renovated building that hosts an elegant shopping mall.
If Suite Quaroni is your point of start of your city tour, you can easily walk to the main city landmarks by using the pedestrian areas of Cassaro and Via Maqueda. This way you will be able to independently move around and reach historical markets, churches, and monuments, as well as spots for food and wine or street food.
Teatro Massimo (the opera house) is located at a short walking distance from the B&B. Past the opera house and following the road opposite from Via Maqueda, you can reach shopping center with some of the most notorious fashion brands, both nationally and internationally. The opposite direction will take you to Quattro Canti. From there you can easily reach the magnificent piazza Pretoria. If you walk inland from the Quattro Canti you will cross the Cathedral; whereas if you walk toward the coastline, you will be able to reach Piazza Marina and the gorgeous Villa Garibaldi followed at a short distance by Porta Felice and the Foro Italico, Palermo's promenade.
Suite Quaroni is also ideal for foodies who wish to have a unique gourmet experience, like sampling wines from the local wineries of the island while mingling with the local people in the many restaurants that populate the historical center, all while being able to walk back within a short distance. At Suite Quaroni
six rooms
will be waiting to welcome you in all of their comfort and great lighting. Each room offers all necessary amenities for a vacation of prime comfort in Palermo: AC units, comfortable beds, electric tea kettle with a selection of teas and herbs, espresso machine, laundry service and a small private parking lot near palazzo Quaroni. Both high service quality and its central location make our B&B the perfect place for anyone ready to explore Palermo.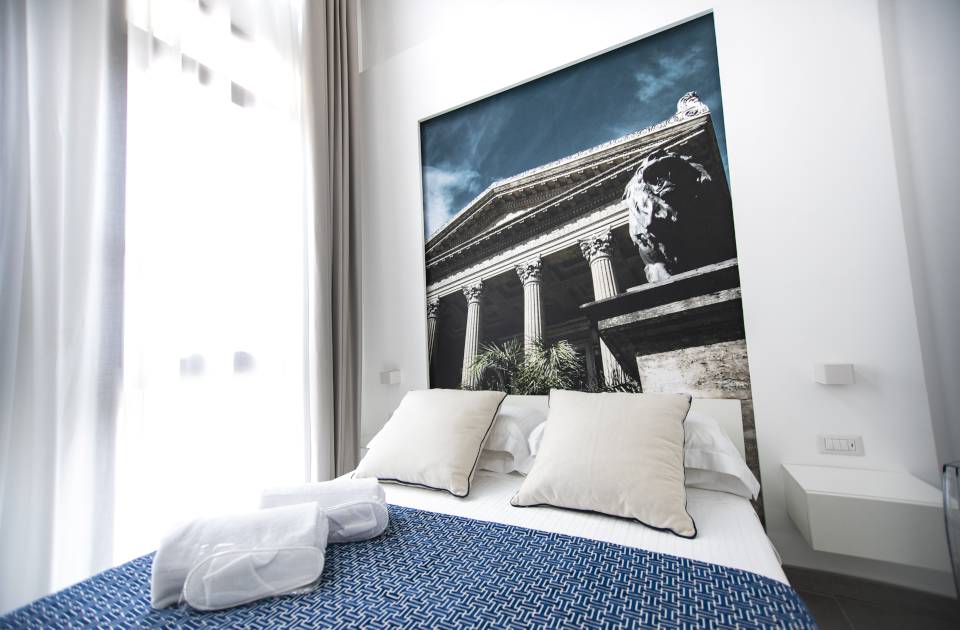 Your stay at Suite Quaroni is equivalent to comfort, well-being and no-stress. Guests are given undivided attention to their comfort needs on a daily basis. Excellence of hospitality is at the basis of our service at Suite Quaroni. Quality of sleep is a fundamental criterion when reserving your next stay. This is one of the areas where we excel.
Our rooms
have been designed to offer maximum comfort with excellent sound-proof and top quality bedding, including hypoallergenic pillows that will lead to a sound night of sleep at Suite Quaroni.