Palazzo Quaroni, an elegant "palazzo" at Palermo city center
Palermo's historical center is one the largest and most diverse in Europe: it is divided in four by the Cassaro (corso Vittorio Emanuele) and by Via Maqueda, providing a surpringly stunning diversity of style, art, folklore and traditions at every step. A multitude of areas that can only be accessed by pedestrians are at a nearby distance, particularly the two main roads, il Cassaro and Via Maqueda, making it possible, and advisable, to walk around Palermo to fully enjoy the city's aromas, colors and the sound that permeate through the city.
From the opera house Teatro Massimo, one of Basile's architectural masterpieces, take via Maqueda toward Quattro Canti. Palazzo Quaroni can be be found a few kilometers down on your right side. The "palazzo" was recently renovated and it lodges a shopping mall as well as Suite Quaroni, an elegant and welcoming B&B in Palermo.
The building, or Palazzo, overlooks Via Maqueda, giving the whole pedestrian area a special architectural flare. Its elegant shopping mall, with its many restaurant and shops inside, has become the perfect destination to lounge and window-shop in and exclusive area while you stroll along via Maqueda.
The symbiotic relationship between the Palazzo and the street it sits on makes Suite Quaroni the ideal location for anyone seeking to stay at a B&B in the historical center of Palermo and have the ability to get to know the city center on foot.
Suite Quaroni B&B in the historical city center of Palermo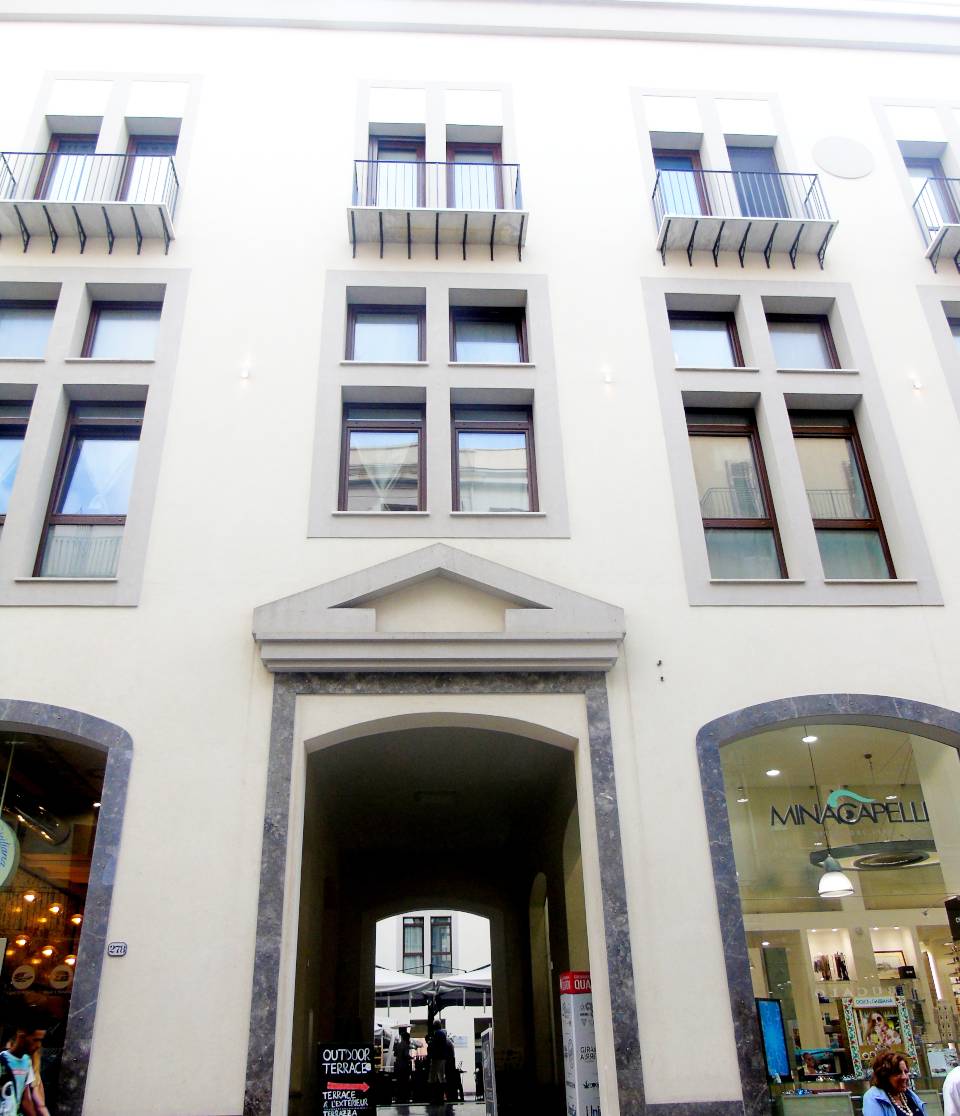 Palazzo Quaroni is an elegant building, recently renovated , which rises in the central avenue of Palermo's Via Maqueda, an area that has served in the past as oratory for the Jerusalemites and a local renowned movie theatre - cinema Basile. The building is named after its designer, the architect Ludovico Quaroni.
The land on which the Palazzo was built belongs to the Catholic Church (the Curia) and it has significant historical value to the city. Lodged in between Via Maqueda, la discesa dei Giovenchi and la discesa delle Capre, once upon a time this neighborhood hosted la chiesa di Santa Croce (Church of the Holy Cross), l'oratorio dei Gerosolimitani (the Oratory of the Hospitallers) and years later the movie theater - cinema Basile. This area is also particularly influenced by the passage of life-time since; in addition to the chiesa di Santa Croce and the cemetery, what was once known as the 'vecchio macello", or slaughterhouse, was also located in its proximity.